[vc_row][vc_column][vc_column_text]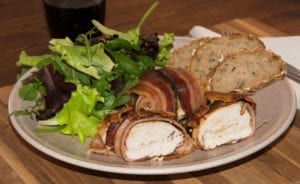 And here is a delicious and appetizing recipe, this time we go international cuisine!
They are chicken nuggets with fontina inside, wrapped with slices of bacon spread and cooked in the oven.[/vc_column_text][vc_custom_heading text="Products used in this recipe
" use_theme_fonts="yes"]
[/vc_column][/vc_row]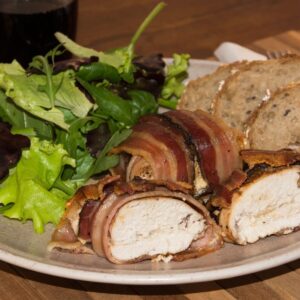 Chunks of Chicken with Fontina and Bacon
Chunks of chicken, with fontina cheese and wrapped with slices of bacon.
Ingredients
1

chest

chicken

200

gr.

spread bacon

cut into long slices

200

gr.

fontina

q.s.

pepper

q.s

salt

q.s.

paprika
Instructions
Cut the chicken breast into 4 pieces.

Make a pocket inside each piece of chicken and put the fontina.

Sprinkle with the sweet paprika, pepper and a pinch of salt (very little salt because the bacon with which it is wrapped is salted).

Wrap with the bacon.

Put on a baking sheet with a sheet of parchment paper and bake at 160 ° C. for 30 minutes.

Turn the bacon into a nice crispy one, if necessary put the last minute on the oven on a ventilated or grill.

Leave for 5/6 minutes and serve.