[vc_row][vc_column][vc_column_text]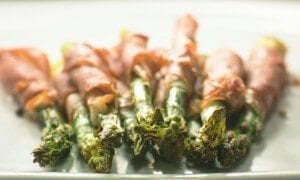 Today we present a very simple and tasty recipe, the asparagus with ham, cooked in the oven, an original way to enjoy asparagus, a vegetable from the particular taste that is enhanced by the flavor of the salted ham.[/vc_column_text][vc_custom_heading text="Products used in this recipe" font_container="tag:h3|text_align:left" use_theme_fonts="yes"]
[/vc_column][/vc_row]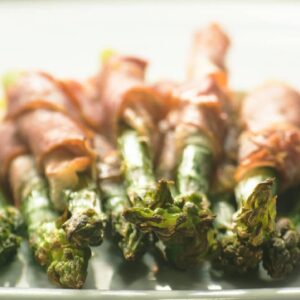 Asparagus wrapped in Ham
Blanched asparagus wrapped in salted ham and cooked in the oven.
Ingredients
400

gr

asparagus

150

gr.

salted ham
Instructions
Blanch the asparagus in Asparagus pot or steamed (I prefer to use the steam).

Cut the end of the asparagus (very hard), and wrap each asparagus with a thin slice of ham.

Place a sheet of parchment paper on the baking sheet and arrange the asparagus well spaced.

Heat oven to 200 degrees ventilated and cook the asparagus for ten minutes, or at least until the ham begins to brown.

Gently place the asparagus on a plate and serve hot.
Notes
If you want to make the most tasty recipe (but not light) you can add between asparagus and ham cheese of your choice.