[vc_row][vc_column][vc_column_text]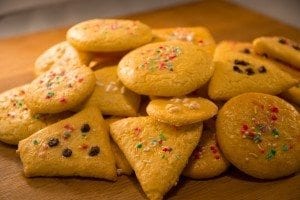 Today I want to present the cookie recipe par excellence of the Christmas holidays, in particular for the feast of the Epiphany, the befanini.
Even Gombitelli every family has its own recipe for making befanini, today I propose a recipe that I found on the cookbook 'Nonna Maria'.[/vc_column_text][vc_custom_heading text="Products used in this recipe" font_container="tag:h3|text_align:left" use_theme_fonts="yes"]
[/vc_column][/vc_row]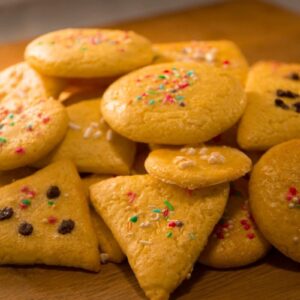 Befanini
Crunchy biscuit typical of the Christmas period.
Ingredients
500

gr.

flour

300

gr.

sugar

150

gr.

butter

4

n.

eggs

1

sachet

baking powder for cakes

q.s.

grated orange

rind

q.s.

sugar, chocolate chips or other trimmings
Instructions
Combine in a large bowl, the flour, the sugar, the baking powder and grated orange peel.

Remove the butter from the refrigerator half an hour before and after heating a bit 'in hand mix with the other ingredients.

Add 3 whole eggs and egg yolk and mix with the other ingredients. (Keep the egg white more)

Mix the ingredients thoroughly. At this point, if the dough is too stiff add a little milk, if on the contrary it is too soft add a dusting of flour.

Wrap the dough in plastic wrap and let it rest for 30 minutes in the refrigerator.

Roll out the dough on a floured board to a thickness of 0.3 / 0.4 cm and cut the biscuits with shapes (unless you have the molds maybe a glass) and place them on a baking sheet with parchment paper.

Mount the egg white and brush the cookies.

Add on the sugar cookies, chocolate chips, etc ...

Bake in oven at 180 ° C for 9 minutes.

Happy holidays with befanini.