[vc_row][vc_column][vc_column_text]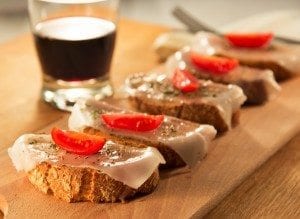 The recipe that we present today is a tasty bruschetta made with lard Rosa Gombitelli, rosemary and cherry tomatoes; It can be served as an aperitif or an appetizer; very simple recipe, but by real gourmets.[/vc_column_text][vc_custom_heading text="Products used in this recipe" font_container="tag:h3|text_align:left" use_theme_fonts="yes"]
[/vc_column][/vc_row]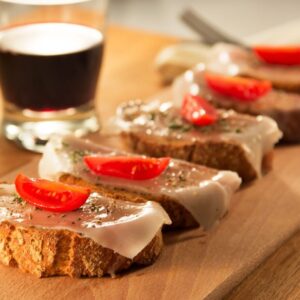 Bruschetta with Lard and Rosemary
Bruschetta made with toasted bread, pink lard of Gombitelli, rosemary and cherry tomatoes.
Ingredients
100

gr.

Cheek to Pepe

10

slices

long loaf of bread

baguette type

3

n.

Cherry tomatoes

1

sprig

rpsemary

q.s.

pepper

coarse grind
Instructions
Cut the long loaf bread into slices more or less a centimeter.

Arrange the slices of bread in the oven at 200 ° C. until golden brown.

Finely chop the rosemary.

Arrange the slices of lard on the bread, sprinkle with pepper and the chopped rosemary.

Cut the tomatoes into 4 and place them over bruschetta, serve immediately.