[vc_row][vc_column][vc_column_text]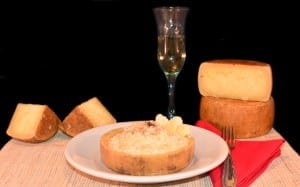 And here is a reworking of one of the classics of Italian cuisine, champagne risotto; only variant that present with respect to the original recipe is that instead of Parmigiano we use Scoppolato of Pedona.
The distinctive touch of this recipe from him then that table instead of using the dishes you do half-forms of Scoppolato of Pedona emptied.[/vc_column_text][vc_custom_heading text="Products used in this recipe" font_container="tag:h3|text_align:left" use_theme_fonts="yes"]
[/vc_column][/vc_row]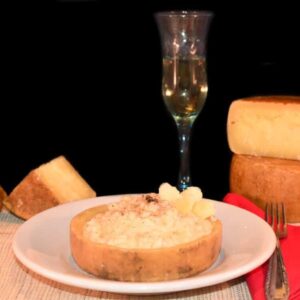 Champagne Risotto in Coppola
Risotto with fried onion, champagne and Scoppolato of Pedona.
Ingredients
40

gr.

butter

1

n.

onion

blonde

160

gr.

rice

300

ml.

champagne

100

gr.

Scoppolato of Pedona

2

n.

Coppola emptied of Scoppolato of Pedona

previously emptied

q.s.

vegetable broth

q.s.

pepper
Instructions
Put 20 g of butter in a frying pan and let it melt gently, then add the finely chopped onion and fry.

Increase heat, add the rice and toast, stirring continuously for about 2 minutes.

then add 150 ml of Champagne and, stirring continuously, let it evaporate over high heat.

Pour a ladle of hot broth and 50 grams of Scoppolato of Pedona into chunks; cook, adding more broth as it is absorbed.

After about ten minutes pour the remaining Champagne.

Remove the risotto of the fire when it is al dente, add the remaining butter and the grated Scoppolato Pedona and mix; season with salt and if you want to put a sprinkling of pepper and plug letting stir for three minutes.

At the table instead of the dishes use the caps emptied of Scoppolato of Pedona.
Notes
Once emptied, you can use the half-shaped Scoppolato of Pedona with any risotto that goes well with cheese, besides being a nice method to the eye as well it gives the dish a touch of cheese; the hot rice melts the remaining cheese in half and shape is a lust for the taste buds, try it!