[vc_row][vc_column][vc_column_text]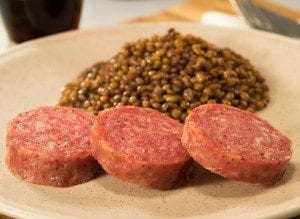 And here comes the classic dish for New Year's Eve, the Cotechino with lentils!
Dish rooted in Italian culinary tradition, it is said that eating lentils on New Year's night brings money for the year to come.[/vc_column_text][vc_custom_heading text="Products used in this recipe" font_container="tag:h3|text_align:left" use_theme_fonts="yes"]
[/vc_column][/vc_row]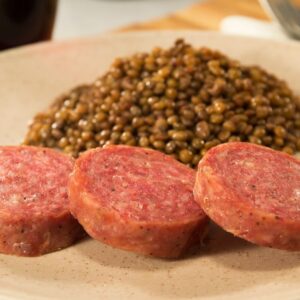 Cotechino with Lentils
Cotechino accompanied by lentils.
Ingredients
1

n.

cotechino

100

gr.

lentils

dried

2

gloves

garlic

4

leaves

sage

q.s.

oliv oil

extra virgin

q.s.

pepper

q.s.

salt
Instructions
Cotechino cooking
Wrap the cotechino with plenty of aluminum foil and pierce it all with a toothpick.

Put the cotechino in cold water and cook for 90 minutes.
Cooking lentils
Put the lentils into the pot with cold water, the sage and the garlic cloves and simmer for 40 minutes; check the cooking after 30 minutes and add a handful of salt.

Drain the lentils, remove the garlic and sage and season lentils with Extra Virgin Olive Oil, sprinkle with pepper and adjust salt if necessary.
Final
Serve Cotechino hot thick slices accompanied by lentils.