[vc_row][vc_column][vc_column_text]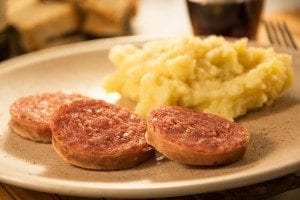 The recipe that we propose today is a classic to be proposed during the first cold of the season; a very tasty and nutritious dish made with Cotechino accompanied by Mashed Potatoes.[/vc_column_text][vc_custom_heading text="Products used in this recipe" font_container="tag:h3|text_align:left" use_theme_fonts="yes"]
[/vc_column][/vc_row]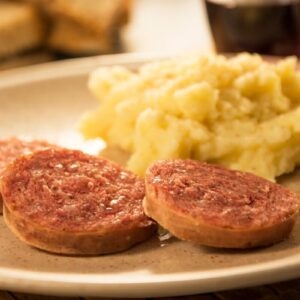 Cotechino with Mashed
Cotechino accompanied by mashed potatoes.
Ingredients
mashed potatoes
400

gr.

potatoes

q.s.

nutmeg

30

gr.

butter

150

ml.

milk

q.s.

salt
Instructions
Prepare the Mashed Potatoes
Peel the potatoes and boil for half an hour checking cooking.

Mash the potatoes with a strainer or a fork.

In a saucepan heat the milk, melt the butter and add the nutmeg.

When the milk is warm, but before that bubble, add the potatoes and mix occasionally, do go for 5 minutes, and in any case depending on the acceptable density; season with salt.
Cook the Cotechino
Wrap the sausage with plenty of aluminum foil and pierce it all with a toothpick.

Put the sausage in cold water and simmer for 90 minutes.
final
Serve hot Cotechino into slices accompanied by mashed potatoes.
Notes
Among the classic side dishes to accompany the cotechino as well as the Potato Mashed, there are lentils, if worn New Year's Eve is said to bring good luck ...