[vc_row][vc_column][vc_column_text]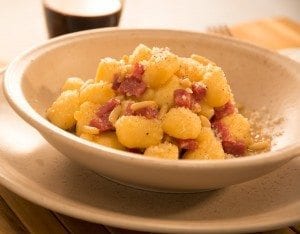 The dish that we present today is a first course of potato gnocchi with butter and salami with pine nuts; very original and tasty recipe.[/vc_column_text][vc_custom_heading text="Products used in this recipe" font_container="tag:h3|text_align:left" use_theme_fonts="yes"]
[/vc_column][/vc_row]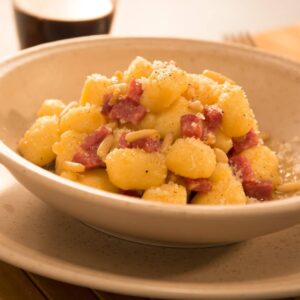 potato gnocchi with salami with pine nuts
Potato gnocchi with butter and salami with pine nuts.
Ingredients
500

gr.

potato gnocchi

50

gr.

butter

100

gr.

Salami with Pine Nuts

q.s.

Organic Aged Pecorino

q.s.

salt

q.s.

nutmeg
Instructions
Cut the Salami with Pine Nuts into small cubes.

Melt the butter in a large skillet and put to fry the sausage for two minutes over low heat.

In a pot of salted water cook the gnocchi.

Drain the gnocchi and add them to the mixture in the pan.

Serve hot garnished with pine nuts, grated pecorino cheese and a sprinkle of nutmeg.