The Heart of Lard is one of the main products that distinguish the Salumificio Artigianale Gombitelli, this lard is maturated in brine for more than six months, it's pink, has a sweet, full and delicate taste, particularly appreciated for the softness of the slice that melts on the palate.
The Heart of Lard today is a relatively recent product. In the 1980s Alfonso Rossi, the butcher chose from the Triglia family, perfected the technique of refinement of lard, giving to the slice of this product a characteristic heart shape.
To produce the Heart of Lard, we choose the small pieces of lard from the lower back of the pig, without removing the lean part.
The pieces of lard are placed in salting tanks with a mixture of salt and spices including garlic, rosemary, pepper, nutmeg, and cloves; After the first twenty days of dry salting, there is added the "mother" brine, that is the brine coming from previously used brines. This process has been repeated for decades and is one of the secrets of Triglia family.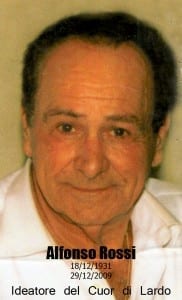 The lard now continues the maturation in refrigerating rooms for a minimum six months, after which it is removed from the brine and following the technique of Alfonso Rossi, two pieces of lard are coupled together, there are added other spices and finally the lard is tied with the elastic twine.
The Heart of Lard, before being ready for consumption, requires further two months of seasoning. At the end of which the fat part assumes the typical pink colour, due to the long maturation. The texture is soft, the flavour – intense and unmistakable.
The Heart of lard for the structure and the size of the slice is perfect to be cut with the slicer, even very thinly, and for its particular shape of the heart, it's perfect to place on plates of starters. This product is a key resource in the cousin and can give an extra touch to the recipes as bruschetta with lard and rosemary, roast wrapped in lard, sautéed vegetables for pasta with beans, and etcetera. In the last years in Versilia has taken hold the habit of matching in cuisine the lard and fish, and one of the dishes that many restaurants have in this area is the shrimp wrapped in lard.
Ingredients
Pork lard, salt, pepper, garlic, flavorings and spices, antioxidant: E301, preservatives: E250-E252.
Produced in a factory where dairy products and gluten-containing ingredients are not used.
It may contain traces of walnuts and pistachios.
Produced and packaged by Salumificio Artigianale Gombitelli di Triglia M&T SNC località Gombitelli, Camaiore, Lucca.
Store in cool place.
100% ITALIAN