[vc_row][vc_column][vc_column_text]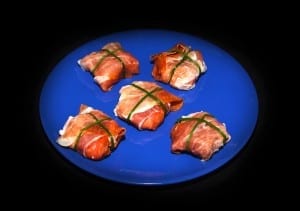 Today we present an easy and tasty way to present the Sweet Ham , making rolls with inside Philadelphia and walnuts; is an original cold appetizer that is prepared in few minutes.[/vc_column_text][vc_custom_heading text="Products used in this recipe" font_container="tag:h3|text_align:left" use_theme_fonts="yes"]
[/vc_column][/vc_row]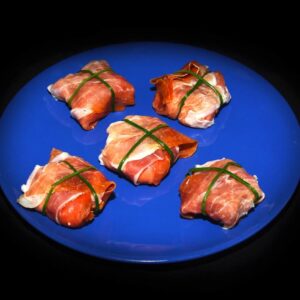 Rolls of Sweet Ham
Rolls of Sweet Ham, Philadelphia and walnuts.
Ingredients
200

gr.

sweet ham

250

gr.

Philadelphia

30

gr.

walnuts

kernels
Instructions
On a plate place two slices of Sweet Ham at cross.https://salumigombitelli.it/wp-content/uploads/2015/06/NIK_8347.jpg

Place in the middle a spoon of Philadelphia and add chopped walnut kernels chopped large.

Close the bags of ham as a small package.

Tie with two chives and let rest in refrigerator for 20 minutes before serving.
Notes
This recipe lends itself to numerous variants, in place of the Philadelphia can use goat cheese, cottage cheese, growth or any other cream cheese; you can then enrich the filling with something else instead of crunchy nuts.