[vc_row][vc_column][vc_column_text]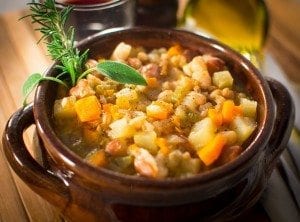 The dish that we present today is a classic Tuscany, the Soup of Spelt, a soup made of spelt, Borlotti Beans and Cannellini beans with fried celery, carrot and onion and the addition of carrots and potato cubes.
The Soup of Spelt is a tasty dish, nutritious and healthy.[/vc_column_text][vc_custom_heading text="Products used in this recipe" font_container="tag:h3|text_align:left" use_theme_fonts="yes"]
[/vc_column][/vc_row]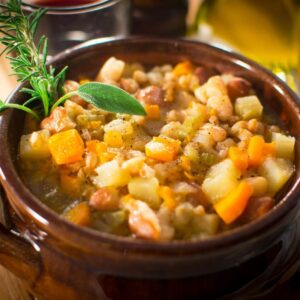 The Soup of Spelt
Soup of spelt, beans, potatoes and carrots.
Ingredients
500

gr.

mix of legumes and cereal for Soup of Spelt

4

spoons

oliv oil

extra virgin

1

n.

potato

big

3

n.

carrots

1

rib

celery

1

piece

lard rind

2

l.

vegetable broth
Instructions
Soak the mixed grains and legumes for 12 hours.

Finely chop the onion, carrot and celery and put it in a pot with 4 spoons of olive oil.

Cut a potato and two carrots into chunks.

Add at the fried the mixed of cereals/ legumes after having drained, 2 liters of broth and at flame high to wait it takes to boil.

Just take a boil add the potatoes and carrots and rind of bacon, then just takes the boil put the low heat.

After an hour of cooking to taste and see the level of cooking and when it is cooked add salt and pepper; remove the rind of fat (and give it to the dog if you have it).

Serve hot with a drizzle of good extra virgin olive oil and a sprinkling of pepper.