[vc_row][vc_column][vc_column_text]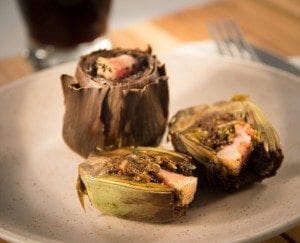 The recipe I am presenting today is a typical dish of Gombitelli, I taught it to my grandmother Mariarosa, original gombitellese.
Mariarosa was the wife of Alfonso Rossi, who was a great butcher in our pork butcher for decades, I have already spoken of him in the article 'The invention of the Heart of Lardo'; Mariarosa was one of our volunteers and still is an excellent cook![/vc_column_text][vc_custom_heading text="Products used in this recipe" font_container="tag:h3|text_align:left" use_theme_fonts="yes"]
[/vc_column][/vc_row]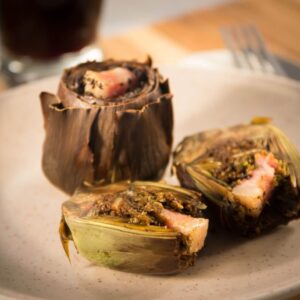 Artichokes Gombitelli Style
Artichokes baked with bacon.
Ingredients
10

n.

artichokes

60

gr.

bacon

2

gloves

garlic

6

leaves

sage

q.s.

salt

q.s.

pepper

2

spoons

oliv oil

extra virgin

q.s.

vegetable broth
Instructions
Cut the stems of the artichokes, remove the tough outer leaves and cut the tip.

Empty them inside to make the filling space.

Gently peel the stems and chop together with the garlic, sage, sprinkle with pepper, a pinch of salt and 2 tablespoons of olive oil; mix everything.

Place your text inside the artichokes with a cube of bacon.

Place in a large baking sheet with parchment paper as in the photo.

Bake in preheated conventional oven at 180 ° C, and gradually moisten each artichoke with a spoon to keep it soft; bake for 45 minutes.

Serve hot.