[vc_row][vc_column][vc_column_text]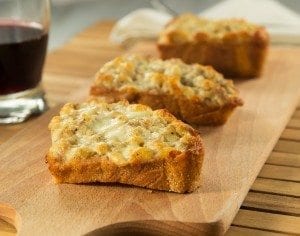 And here comes a tasty appetizer with sausage and soft cheese; easy to prepare and very unique taste.[/vc_column_text][vc_custom_heading text="Products used in this recipe" font_container="tag:h3|text_align:left" use_theme_fonts="yes"]
[/vc_column][/vc_row]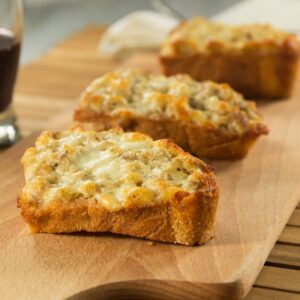 Crostini Sausage and Stracchino Cheese
Toasted homemade bread with sausage and stracchino cheese baked in the oven.
Ingredients
250

gr.

stracchino cheese

150

gr.

sausage

10

slices

homemade bread
Instructions
Crumble the sausage and mix with stracchino cheese.

Cut the bread slices with a thickness of about 1 cm.

Spread the mixture evenly on the bread slices.

Heat oven to 150 ° C. and place the toast on the grill (you put a tray underneath so as not to dirty the oven).

Bake for 10 minutes with the fan oven and top if you like crispy give a few minutes of grill.

Serve hot.