The sausage is one of the main sausages we produce in Italy. It has countless local and regional varieties, and even outside of national borders. This cured meat is produced in almost every corner of the world.
It is produced from the pork shoulder and pork belly meat,  in a ratio of half and half. The Salumificio Artigianale Gombitelli uses only salt, garlic and pepper to flavour the meat and to enhance its taste.
The sausage is stuffed into natural pork casings and is then tied up in "cornocchi" (a portion of the sausage between two bindings of the casing) of about 10 cm.
The "Triglia" sausage is one of the most popular products of the company in Versilia and Lucca,  and it has many admirers.
The sausage is extremely versatile product and has endless uses in the cuisine, is omnipresent in barbecues and is very good for the recipes like Sausage and beans, Sausage and turnips, peppers and sausage. It is often used alone or with ground beef meat to prepare a more flavourful meat sauce.
There should be written  a book just about how to use the sausage in the cuisine and is one of the products that should not lack in the pantry of pork lovers.
Ingredients
Pork, pork fat, salt, pepper, garlic, dextrose, natural flavors, acidity regulator: sodium acetate, sodium citrate, antioxidants: E300 – E301, preservatives: E252.
Produced in a factory where dairy products and gluten-containing ingredients are not used.
It may contain traces of walnuts and pistachios.
To be consumed after cooking.
Salumificio Artigianale Gombitelli di Triglia M. & T. s.n.c. Via dei norcini, 4719/4725 Gombitelli – 55041 Camaiore (LU)
Keep in the fridge from + 0 / + 4 ° C.
100% ITALIAN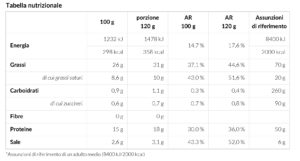 With which wine match it
Croatina
Lombard IGT wine from the province of Pavia has a ruby red colour and violet reflections full valuable when crossed by the light; an appreciable scent is broad and refers to a large floral bouquet; the flavour has a prolonged persistence on the palate, which is very dry and very balanced between sapidity and structure.
Salice Salentino rosso
DOC deep ruby red wine from Salento; intense and complex nose, with the hints of marasca cherry jam, dried plum, chocolate, and vanilla; vigorous taste, warm and harmonious, with an elegant background of ripe fruit and spices, ending in a pleasantly bitter aftertaste.
Malvasia Colli Parmensi
DOC pale yellow wine from Emilia Romagna; intense and complex nose, which highlights floral and fruity characteristics, with the notes of almond, apricot, peach and white flowers; fresh, sapid and an elegant taste, with a typical, remarkable and persistent aroma.