[vc_row][vc_column][vc_column_text]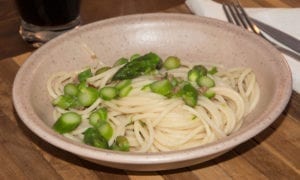 Here is a simple and fast way to make a plate of tasty and nutritious spaghetti in a few minutes.
Also this recipe was taken from the notebook of "Nonna Maria".[/vc_column_text][vc_custom_heading text="Products used in this recipe" use_theme_fonts="yes"]
[/vc_column][/vc_row]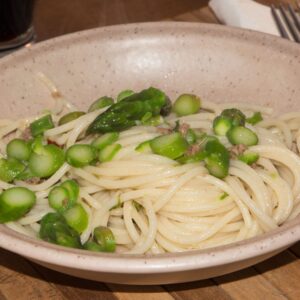 Fast Pasta Gombitelli Style
Spaghetti with asparagus dressed with Lardo cream.
Ingredients
160

gr.

spaghetti

8

n.

asparagus

1

spoon

cream of lard

1

spoon

olive oil

extra virgin

q.s.

salt
Instructions
Cut the asparagus into thin slices and toss them in boiling salted water together with the spaghetti (if you like a little more cooked, throw the asparagus 2/3 minutes before the pasta).

In a pan heat a tablespoon of extra virgin olive oil and let us dissolve a nice spoonful of lard cream.

Drain the pasta with the asparagus and sauté it in the pan with the dressing.

Serve hot, and lunch is served!
Notes
This type of preparation is suitable for all the seasonal vegetables you like, such as zucchini, string beans, artichokes, etc.