[vc_row][vc_column][vc_column_text]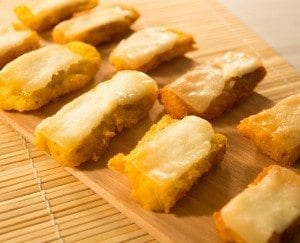 Today I want to propose a recipe who in Tuscany is usually make the day after eating the Polenta; using the advanced Polenta, fried in the seed oil and cooked for 2 minutes in the oven with a slice of pecorino cheese .[/vc_column_text][vc_custom_heading text="Products used in this recipe" font_container="tag:h3|text_align:left" use_theme_fonts="yes"]
[/vc_column][/vc_row]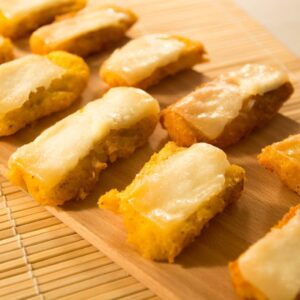 Fried Polenta with Pecorino Cheese
Fried polenta slices with fresh Tuscan pecorino cheese dop.
Ingredients
500

gr.

polenta

cold

500

ml.

seed oil

150

gr.

Fresh Pecorino Toscano Dop
Instructions
Heat oil in a frying pan.

Cut the polenta into slices of 1 cm and fry.

Cut a thin slice of pecorino cheese and put it on each slice of fried polenta; put in a baking dish a baking paper and lean slices of polenta.

Cook for two minutes in a preheated oven at 180 ° C.

Serve hot.