[vc_row][vc_column][vc_column_text]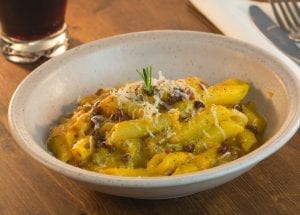 And here comes another great classic of Gombitelli, this recipe taken verbatim from quadernino of our 'Nonna Maria'; penne with pumpkin and Cheek with Pepper; First very tasty dish and easy to prepare.[/vc_column_text][vc_custom_heading text="Products used in this recipe" use_theme_fonts="yes"]
[/vc_column][/vc_row]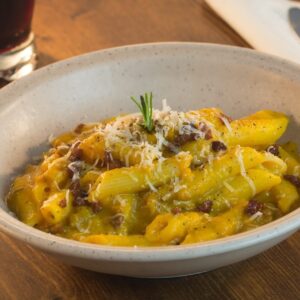 Penne with Cheek and Pumpkin
Penne with fried onion, diced cheek and pumpkin.
Ingredients
400

gr.

pumpkin

net weight of the pulp

3

spoons

olive oil

extra virgin

1

red onion

1/2

glass

White wine

q.s.

vegetable broth

q.s.

salt

q.s.

pepper

60

gr.

cheek with pepper

diced

1

sprig

rosemary

160

gr.

penne

q.s.

PDO Tuscan Aged Pecorino
Instructions
Finely chop the onion and fry in a large frying pan with two tablespoons of oil.

When the onion begins to brown add the diced pumpkin; to go over high heat for 5 minutes.

Deglaze with the white wine.

Add a couple of ladles of broth and simmer for 10 minutes plugged, add a little 'broth if too dry.

Blend all the ingredients in a blender and set aside.

In another skillet, brown the cheek cut into cubes and the chopped rosemary finely with the crescent moon, until the cheek is not crisp.

Cook the pasta in salted water and serve with pumpkin and cheek sauce.

Serve hot, grating to taste pepper and Pecorino Seasoned.