The Cheek with Pepper is a cured meat prepared with pork's cheek, a piece of the meat where the lean veins run. This cured meat, for its texture and taste, is placed in the middle between the bacon and the lard, but its gustatory mark is characteristic and unique. This product does not need a long seasoning time and its section without the ring is completely peppered.
To make the Cheek with Pepper, we select the average size pork's cheeks, with a proper balance between the fat and thin. We leave the rind and then salt the meat, adding to it a mix of spices, there are mostly marked the flavours of the garlic, black pepper, and rosemary.
The salted cheeks are placed in the special salting tanks and then left in refrigerating rooms at last a month, during which time the meat absorbs the salt and the flavours of the spices. After the salting phase, the cheeks are removed from the brine and the parts without the pork rind are peppered with finely minced black pepper. The seasoning time of the Cheek with Pepper is quite short, roughly two weeks because this product has to remain rather soft.
With the Cheek with Pepper, you can prepare a myriad of dishes. Served in thin slices, it is perfect as an appetizer-placed on the warm, toasted bread (also with black truffle), but it definitely plays the main role in the formulation of sauces and it also accompanies too many main courses. The Cheek with Pepper is a basic ingredient for diverse traditional dishes, as the "Carbonara" and the "Amatriciana", in some regions of Italy, it is a substitute of well-known Pancetta (bacon).
Ingredients
Pork cheek, salt, spices, natural flavorings, antioxidant E301, preservatives: E250-E252.
Salumificio Artigianale Gombitelli di Triglia M. & T. s.n.c. Via dei norcini, 4719/4725 Gombitelli – 55041 Camaiore (LU)
Store in cool place.
100% ITALIAN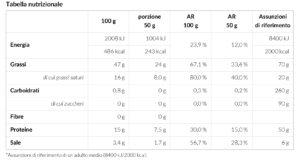 With which wine match it
Pinot Noir
DOC wine from Oltrepò Pavese, pale straw-coloured with greenish reflections ; fresh, delicate, fruity bouquet with cadences of apple and peach; elegant, harmonious and soft taste, with good structure and a long persistence.
Marzemino
DOC dark ruby red almost violet wine with varied highlights, from garnet red to deep blue; pleasant bouquet, with immediate fragrances of mixed berries, floral notes especially pansy, but also scents of spices, mint and balsamic herbs; dry, full-bodied taste, with velvet succulence that revokes the olfactory perceptions.
Chiant Colline Pisane
DOCG intense ruby red colour wine with delicate garnet tints, from the Tuscany; very intense nose of a ripe fruit; spicy notes of the wood combined with the varietal characteristics of the Sangiovese; persistent flavour, the tannins are fit and dense.