[vc_row][vc_column][vc_column_text]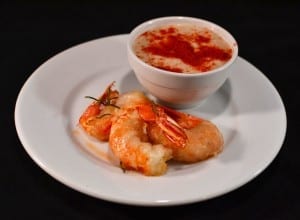 Today we present one of the most popular recipes in recent years in restaurants of Versilia, shrimp wrapped in lard, a great dish as a starter but also by varying the amount as a main dish. It 'a simple and tasty dish that combines specialties of the sea such as shrimp and products of high Versilia which the Lard.
Today we present accompanied by a creamy cannellini bean sauce.[/vc_column_text][vc_custom_heading text="Products used in this recipe" font_container="tag:h3|text_align:left" use_theme_fonts="yes"]
[/vc_column][/vc_row]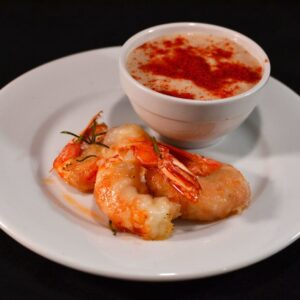 Prawns with Lard accompanied by cannellini cream
The prawns in Lardo, accompanied by a tasty sauce beans, are a tasty idea for an original appetizer and easy to prepare. The prawns, private armor are wrapped with slices of lard, made crunch in the oven and accompanied by a delicate sauce with beans.
Ingredients
ingredients
12

n.

shrimp

(If small increase the number)

12

n.

lard

thin slices

2

sprigs

rosemary
Ingredients for the sauce cannellini
1

n.

cannellini

canned

1

spoon

olive oil

extra virgin

q.s.

salt

q.s.

pepper

ground

q.b.

paprika

sweet
Instructions
Instructions
Started depriving the prawns of the armor but without removing the tail and remove the intestine, black filament that is located at the top of the queue.

Wrap each shrimp tail with a slice of bacon and place on a baking sheet covered with parchment paper.

Now included in every slice of bacon 3-4 rosemary and cook for 10 minutes in a convection oven at 160 ° (or 180 ° in oven).
Instructions cannellini sauce
Drain the beans and put them in a blender, and blend them add a tablespoon of extra virgin olive oil, a pinch salt and freshly ground pepper.

You can choose to serve the cannellini cream at room temperature or warm, to heat it just takes one minute in the microwave or in a saucepan.
presentation plate
In each plate positioned three shrimp and a bowl with cannellini cream, to taste sprinkle the surface of cannellini cream with sweet paprika; serve hot shrimp.
Notes
If you wish, you can prepare the accompanying cream with any other bean or chickpea.