The soppressata also called "head in box" or "coppa of head", depending  on the area where it is produced, in years past belonged on poor sausages, because produced with the less noble part of the pig, like the neck, cheeks, tongue, etc.
To produce it, the pork heads are boiled in salted water and flavoured with various spices, then the heads are picked clean in warm and cut into rough pieces; everything is then mixed with a blend of spices, far more exotic than those commonly used in Tuscan butchery. The Artisan Salumi Gombitelli's Soppressata is enriched by a singular mixture of spices including pepper, coriander, cinnamon, cloves, nutmeg, Jamaican allspice, ginger, Mace and ginger flower, wisely balanced.
Once ready, the dough, still hot is stuffed in a synthetic gut, pressed with a weight, enough to make it lose the cooking liquid and the fat part (hence the name Soppressata), and finally is allowed to cool; the Soppressata is a product that does not require seasoning and once cooled, is ready to be consumed.
The Soppressata is great with appetizers, thinly sliced and possibly accompanied by pickles, or used for stuffing sandwiches.
In Tuscany, the Soppressata, along with Porchetta, is a ubiquitous presence on the counters of sandwiches, always accompanied by a good red wine.
Ingredients
Pork head loin, pork rinds, pork tongue, salt, pepper, garlic, spices, flavorings, natural flavors, dextrose, sucrose, antioxidant: E300, preservative: E250.
Salumificio Artigianale Gombitelli di Triglia M. & T. s.n.c. Via dei norcini, 4719/4725 Gombitelli – 55041 Camaiore (LU)
Keep in the fridge at +2-+4 °C.
100% ITALIAN

With which wine match it
Bonarda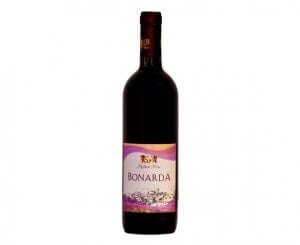 Intense ruby red wine from Oltrepò Pavese and Piedmont ; sweet bouquet sometimes with the hints of a black pepper and a dry, amiable or sweet taste, slightly tannin bitterness, sometimes vivacious or sparkling; balanced and comprehensive.
Carmignano
DOCG wine from Tuscany with an intense and deep colour, which is almost impenetrable. A scent of a ripe fruit, cassis and raspberry, enhanced by elegant hints of tobacco, chocolate and sweet spices; enchanting taste, a great structure and elegance with high-quality tannins which make it very suitable for long ageing.
Morellino di Scansano
Tuscan red young DOCG wine; the fruity aroma has scents of plum and cherry; flavourful and juicy taste.