[vc_row][vc_column][vc_column_text]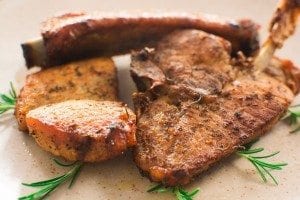 You feel like eating a barbecue, but it's raining outside? Or maybe your building administrator does not allow you to light a barbecue on the terrace?
Do not worry, the recipe that we present is very similar to a grilled steaks and pork chops, but instead cook them on the grill are baked in a common oven.[/vc_column_text][vc_custom_heading text="Products used in this recipe" font_container="tag:h3|text_align:left" use_theme_fonts="yes"]
[/vc_column][/vc_row]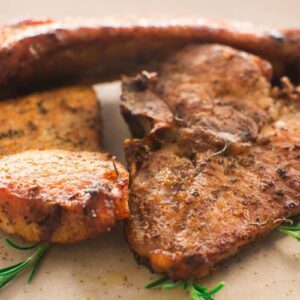 Ribs and Steaks in baking tray
Ribs and steaks, spicy and cooked in the oven at home.
Ingredients
2

n.

pork steaks

8

n.

ribs

4

spoons

oliv oil

extra virgin

2

sprigs

rosemary

2

cloves

garlic

q.s.

salt

q.s.

pepper

q.s.

spices for cooking
Instructions
Arrange in a baking dish two steaks cut in half and the ribs of pork, sprinkle with the aromas of cooking, add salt and pepper and rosemary, garlic and olive oil; mix well before baking.

Heat oven to 200 ° C. It is ventilated and bake, cook for 45 minutes stirring occasionally meat, checking the level of cooking.

Serve freshly baked, accompanied by the side dish of your choice.
Notes
If you live in our area you can spend in our shop Gombitelli, Camaiore (LU) to buy pork for this recipe, we always meat of choice pork.