[vc_row][vc_column][vc_column_text]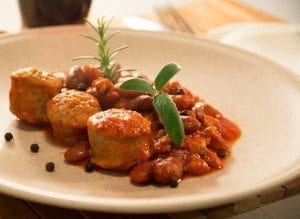 And here is a classic dish of Tuscany cooking, the sausage with beans.
This very tasty and nutritious recipe I used dried beans, fried with garlic, rosemary and sage, and obviously our Fresh Sausage.[/vc_column_text][vc_custom_heading text="Products used in this recipe" font_container="tag:h3|text_align:left" use_theme_fonts="yes"]
[/vc_column][/vc_row]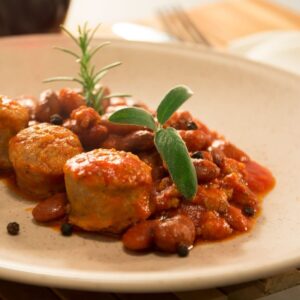 Sausage and beans
Based dish: Sausage and beans with fried garlic, rosemary and sage.
Ingredients
150

gr.

beans

borlotti

q.s.

salt

q.s.

pepper

3

n.

sausages

fresh

2

spoons

oliv oil

extra virgin

2

sprigs

rosemary

5

cloves

garlic

12

leaves

sage

350

ml.

tomato sauce

1/2

glass

wine

white
Instructions
beans cooking
Soak the beans for 12 hours.

Put the beans in a pressure cooker with water, add 1 sprig rosemary 6 sage leaves and 2 cloves of garlic, to go for 45 minutes from the whistle of the pot. (If you don't have a pressure cooker, cooking will take at least 2 hours).
preparation dish
Mince 2 cloves of garlic, a sprig of rosemary and sage leaves 6.

Put to heat the oil in a large frying pan and fry the chopped.

Crumble one sausage into the pan and cook for 5 minutes.

Add the remaining 2 sausage cut into pieces and brown on all sides for 5 minutes.

Deglaze with the wine and let it evaporate.

Add the tomato sauce and cook over low heat for 30 minutes.

Add beans after draining and let go for another 15 minutes, with salt and pepper; add a drop of water if everything is too dry.

Serve hot.