[vc_row][vc_column][vc_column_text]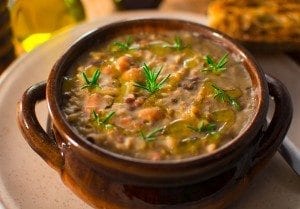 The dish that we present today is a classic Tuscany, exactly the Garfagnana, an area of the province of Lucca, between the Apuan Alps and the main chain of the Tosco Emiliano; territory by the great gastronomic tradition.
It 'a soup of legumes and cereals prepared in the traditional manner, dish healthy and nutritious as well as tasty.[/vc_column_text][vc_custom_heading text="Products used in this recipe" font_container="tag:h3|text_align:left" use_theme_fonts="yes"]
[/vc_column][/vc_row]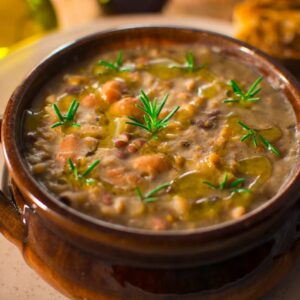 Soup Garfagnina
Ingredients
500

gr.

mixed legumes and cereals for Garfagnana soup

4

spoons

olive oil

extra virgin

1

n.

red onion

1

n.

potato

1

n.

carrot

rib

celery

1

spoon

lard cream

2

l.

vegetable broth
Instructions
Rinse several times mixed legume/cereal and put it to soak in water for 12 hours.

Chop the celery, carrot and onion, and sauté in a large pot where you put to heat the oil and a spoon of lard cream.

Cut the potatoes into cubes and add to the mixture along with mixed legumes and cereal and the broth.

Do go on low heat, after an hour sample to check the level of cooking, and to complete it over a low heat.

When cooked, remove a third of the soup and blend with the blender and bring everything together.

Serve hot with bread, toasted and chopped, a drizzle of good extra virgin olive oil and pepper.