[vc_row][vc_column][vc_column_text]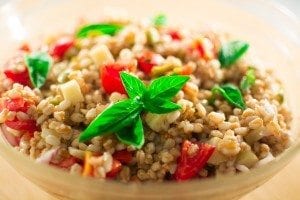 Today we offer a simple recipe and easy to prepare; Spelt salad with tomatoes, olives and Pecorino Toscano Dop Fresco; this recipe, low in calories but nutritious can be a single dish with which lunch or dinner but varying doses also a starter, and is also good in the buffet of appetizers.[/vc_column_text][vc_custom_heading text="Products used in this recipe" font_container="tag:h3|text_align:left" use_theme_fonts="yes"]
[/vc_column][/vc_row]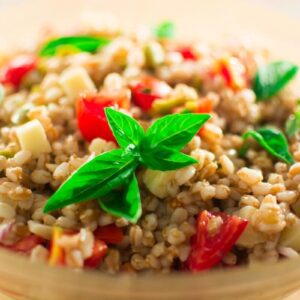 Spelt salad, tomatoes, olives and pecorino cheese
Salad with Spelt Garfagnana IGP with Tomatoes, Olives .and Fresh Pecorino Toscano Dop
Ingredients
300

gr.

Spelt

300

gr.

tomatoes

20

n.

olives

sweet

50

gr.

Fresh Pecorino Toscano Dop

1

n.

spring onion

1

small bunch

basil

q.s.

chili pepper

in powder

q.s.

oregano

dried

1

clove

garlic

4

spoons

oliv oil

extra virgin

q.s.

salt
Instructions
Cook the Spelt in salted water with a clove of garlic for at least 45 minutes, taste it to check the cooking.

Drain and season with 4 tablespoons of oil, salt, oregano and a pinch of chilli pepper; stir and let cool.

Cut the tomatoes into pieces, stone the olives and chop them, cut into slices the onion, diced pecorino cheese, chop the basil.

When the Spelt is completely cooled add all ingredients and mix, let stand half an hour to blend the flavors and add a few whole basil leaves.
Notes
This recipe is open to many variants changing the vegetables or the type of cheese.