[vc_row][vc_column][vc_column_text]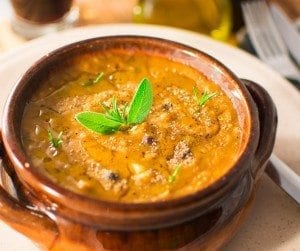 The dish that we present today is a classic Tuscany, the Soup Rustica; It is a soup where you boil the mixture of legumes and cereals in the broth along with a potato made into cubes; except you do a fried with garlic, rosemary, sage and tomato paste.
This soup of legumes and cereals is prepared by the traditional method; It is a dish healthy and nutritious as well as tasty.[/vc_column_text][vc_custom_heading text="Products used in this recipe" font_container="tag:h3|text_align:left" use_theme_fonts="yes"]
[/vc_column][/vc_row]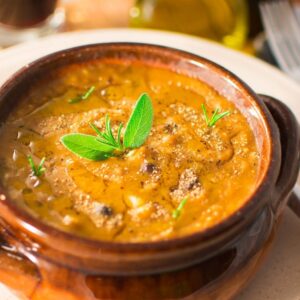 The Soup Rustica
Soup of legumes, cereals and potatoes with fried garlic, rosemary and sage.
Ingredients
500

gr.

mixed legumes and cereals for Rustica soup

4

spoons

olive oil

extra virgin

1

n.

potato

1

spoon

lard cream

2

l.

vegetable broth

3

sprigs

rosemary

8

leaves

sage

3

cloves

garlic

50

gr.

tomato concentrate
Instructions
Cooking soup
Rinse several times mixed legume / cereal and put it to soak in water for 12 hours.

Cut the potatoes into cubes.

Take a large pot and put the broth, add the potato and mixed legumes/cereals after having drained.

Cook over low heat for an hour, then check the cooking and eventually to complete it.
Saute preparation
Dissolve the lard cream in the oil and put to fry the sage, rosemary and garlic; fry very slowly.

When the garlic begins to brown add the tomato paste, then go for five minutes over low heat, then turn off.
Final
When the soup is cooked, put a mesh strainer over the soup and pour the sauce with a spoon to crush the sauce slowly to make it absorb the soup.

Serve hot, with or without toasted bread, with the addition of good extra virgin olive oil and pepper.