[vc_row][vc_column][vc_column_text]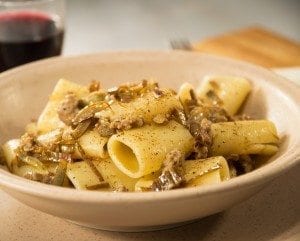 And here comes a dish rooted in the culinary traditions of our village Gombitelli, the Paccari with sausage and artichokes; Also this recipe I found in the quadernino 'Grandmother Maria'; cookbook written by hand more than 60 years ago, from which I am extracting many traditional recipes that I am proposing.[/vc_column_text][vc_custom_heading text="Products used in this recipe
" font_container="tag:h3|text_align:left" use_theme_fonts="yes"]
[/vc_column][/vc_row]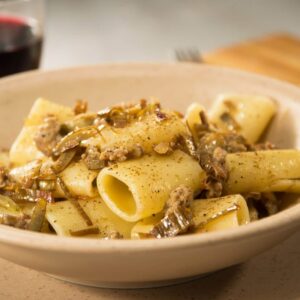 Paccari with Sausage and Artichokes
Paccari served with sausage sauce and artichokes.
Ingredients
2

spoons

extra virgin olive oil

2

artichokes

1/2

onion

red

1

gloves

garlic

q.s

salt

q.s.

pepper

q.s.

chili pepper

1/4

glass

white wine

150

gr.

Sausage

160

gr.

Paccari
Instructions
Wash and clean the artichokes from the hardest parts, then slice them finely and set aside.

Heat the olive oil in a large frying pan and fry the chopped onion and one clove of crushed garlic.

Remove the garlic and add to the pan sliced artichokes; season with salt, pepper and paprika to taste.

When the artichokes are lightly browned, sprinkle the preparation with 1/4 glass of white wine.

Cook the artichokes for 10 minutes, gradually adding a ladle of water.

Add the crumbled sausage and let go for another 15 minutes over low heat.

Boil in salted water Paccheri, drain and add to the sauce.

Serve hot with a sprinkling of freshly ground black pepper.