[vc_row][vc_column][vc_column_text]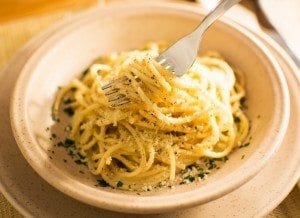 Today we present a classic of Italian cuisine, the Spaghetti Cheese and Pepper, the recipe is originally from Lazio but we like good Tuscan parochial be making a small change using Pecorino Toscano DOP Seasoned instead of Pecorino Romano.[/vc_column_text][vc_custom_heading text="Products used in this recipe" font_container="tag:h3|text_align:left" use_theme_fonts="yes"]
[/vc_column][/vc_row]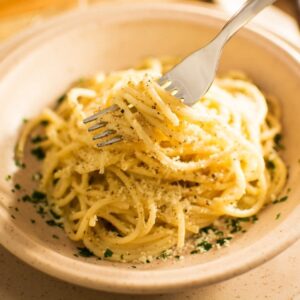 Spaghetti Cheese and Pepper
First dish of spaghetti, pecorino cheese and pepper.
Ingredients
60

gr.

Pecorino Toscano DOP Seasoned

1

spoon

olive oil

extra virgin

q.b.

black pepper

freshly ground

160

gr.

spaghetti
Instructions
Grattugiare il pecorino, tenerne da parte una manciata per decorare e mettere il resto in una ciotola.

Prepare a pan where season the pasta and put in the oil and a generous grinding of pepper.

Boil pasta in salted water; just before draining, add a ladle of cooking water into the bowl with the cheese, a little at a time, stirring with a fork until you get a thick cream.

Turn the heat under the pan and drain the pasta; put it in the pan and add the cream cheese; mix thoroughly.

Place on plates, sprinkle with the cheese kept aside, a good grinding of pepper and serve immediately.