[vc_row][vc_column][vc_column_text]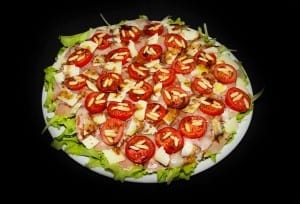 Today we present one of the many ways to enjoy the carpaccio of Arista in Bigongia, to make us a cold starter, or by varying the quantities also a unique summer dish, easy to prepare and very tasty to be consumed outdoors during a lunch lot.[/vc_column_text][vc_custom_heading text="Products used in this recipe" font_container="tag:h3|text_align:left" use_theme_fonts="yes"]
[/vc_column][/vc_row]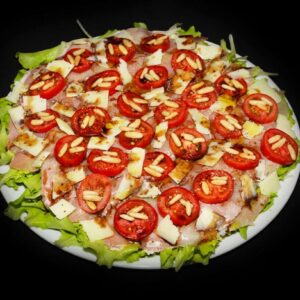 Starter with Carpaccio of Arista in Bigoncia
Carpaccio of Arista in Bigongia with salad, cherry tomatoes, fresh pecorino cheese, pine nuts, olive oil and balsamic vinegar.
Ingredients
200

gr.

Carpaccio of Arista in Bigoncia

200

gr.

salad

100

gr.

Cherry tomatoes

q.s.

Pecorino Toscano DOP Seasoned

flakes

q.s.

olive oil

extra virgin

q.s.

salt

q.s.

pepper

q.s.

balsamic vinegar

of Modena

q.s.

pine nuts
Instructions
Arrange the salad in a large tray and drizzle with a little olive oil extra virgin and a pinch of salt.

Cut into medium-thick slices Carpaccio of Arista in Bigongia and arrange over the salad evenly.

Cut the tomatoes into rounds and after a slight scaling arrange them evenly over Carpaccio.

Do flaked Pecorino Toscano DOP Seasoned and place it on the slices of carpaccio of Arista in Bigongia together with pine nuts.

Drizzle with extra virgin olive oil, balsamic vinegar and pepper (not further salting Carpaccio of Arista in Bigongia because it is already salty).
Notes
If you wish, you can use other types of hard cheese or other types of seasonal vegetables at will.
Carpaccio of Arista in Bigongia like all meats to give the best of its flavor should be eaten at room temperature and not of the refrigerator, you also do not recommend dressing this carpaccio with lemon or other citrus.