[vc_row][vc_column][vc_column_text]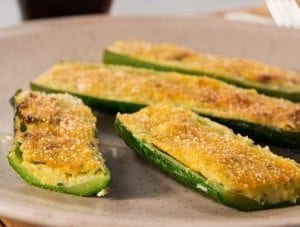 The recipe that I present today is a second dish of Gombitelli, I found this recipe, complete with a drawing in the recipe of my great-grandmother Maria.[/vc_column_text][vc_custom_heading text="Products used in this recipe" font_container="tag:h3|text_align:left" use_theme_fonts="yes"]
[/vc_column][/vc_row]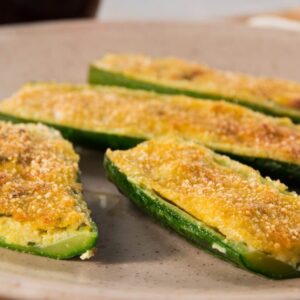 Zucchini Gombitelli
Zucchini stuffed with sausage and parsley.
Ingredients
6

zucchini

big

100

gr.

sausage

q.s.

extra virgin olive oil

1

egg

1

gloves

garlic

q.s.

parsley

q.s.

pepper

q.s.

bread crumbs

30

gr.

Organic Aged Pecorino
Instructions
Trim the beginning and end of the zucchini.

Cut the zucchini in half and empty them with a spoon like in the picture; preserve the pulp.

In a pan heat 1 tablespoon of oil and fry one crushed clove of garlic.

Remove the garlic and add the crumbled sausage and saute over high heat for 3 minutes.

Add the flesh of the zucchini, then go for another 3-4 minutes until it loses much of the liquid contents.

Put the browned sausage with zucchini in a bowl and make stiepidire.

Add one egg, a sprinkling of parsley, a pinch of pepper and pecorino; mix everything.

Fill the zucchini with the filling and sprinkle with breadcrumbs.

Put in an oiled baking dish zucchini.

Heat the convection oven at 180 ° C. and to go for 20 minutes; at the end of cooking to give two minutes of grill.

Servire ben caldo.