[vc_row][vc_column][vc_column_text]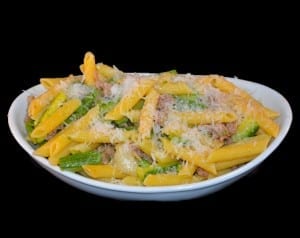 Today we present a recipe of our family, it is a first simple and tasty dish that already our grandparents ate in the summer when you were collecting the zucchini.
Gombitelli is commonly eat  pasta with sausage and seasonal vegetables.[/vc_column_text][vc_custom_heading text="Products used in this recipe" font_container="tag:h3|text_align:left" use_theme_fonts="yes"]
[/vc_column][/vc_row]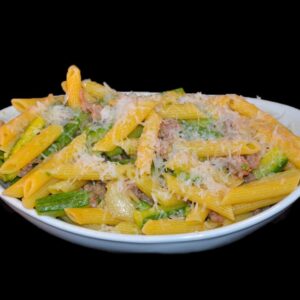 Penne with sausage and zucchini
Penne with sausage, zucchini and pecorino cheese.
Ingredients
320

gr.

penne

2

spoons

olive oil

extra virgin

400

gr.

zucchini

80

gr.

seasoned pecorino cheese

2

cloves

garlic

1/2

glass

wine

white
Instructions
seasoning preparation
Heat in a large frying pan two spoons of oil and fry two cloves of garlic after being crushed.

Remove the casing of the sausage, crumble and cook for about ten minutes on medium heat.

Deglaze with white wine, let it evaporate and turn off the heat.
cooking pasta
Boil water in a large pot, add salt and put the zucchini after cut into small strips.

After five minutes baking zucchini toss the pasta and bring to cooking.
final
Drain the pasta with zucchini and combine with dressing; pour into a baking dish and put on the grated cheese and serve hot.