Aged Arista is a sweet and lean cured meat. It's produced from a very thin part of boned pork loin, which you usually use to make steaks and roasts.
To produce it we use accurately selected boned pork loin, which is later salted with mixed spices- salt, pepper, garlic and Marsala wine. The complex process of salting is made through the vigorous massage of all ingredients.
Once salted, the loin is put in ageing tanks for about one month. After the first part of maturation, the meat is sprinkled with Marsala wine, tucked in a natural gut and tied with twine to make the loin more compact and to give to it a homogeneous form. After this procedure, the loin is air-dried in a warm place for a while and later hung in aerated rooms for ageing.
The seasoning time, depending on loin's diameter, can last from 6 to 8 weeks, after this period the product is ready for consumption.
Aged Arista, along with pork loin Carpaccio at Bigoncia, pepper fillet and smoked pork loin, is one of the leanest, flavourful and the most tender pork loin meat, that the Artisan Factory Gombitelli proposes to delight its guests' palate.
Aged Pork Loin has a nice bright red colour, a delicate and distinctive smell and sweet taste, with a slight taste of aromas and Marsala wine used during the salting. In comparison with its above-listed "brothers", aged Arista's taste is more delicate and sweet.
The aged Arista is great in appetizer buffet and classic cold cuts as a starter; it's very good even as sandwich stuffing. The bread which better matches with this product is potato bread.
Seasoned pork loin, having a little presence of fat, is one of the most indicate cured meats in low calorie diets.
Ingredients
Pork loin, salt, pepper, garlic, spices, antioxidant: E300, preservative: E250-E252.
Produced and packaged by Salumificio Artigianale Gombitelli di Triglia M&T SNC località Gombitelli, Camaiore, Lucca.
Store in cool place.
100% ITALIAN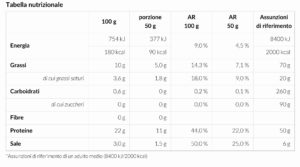 With which wine match it
Salice Salentino rosso
DOC deep ruby red wine from Salento; intense and complex nose, with the hints of marasca cherry jam, dried plum, chocolate, and vanilla; vigorous taste, warm and harmonious, with an elegant background of ripe fruit and spices, ending in a pleasantly bitter aftertaste.
Marzemino
DOC dark ruby red almost violet wine with varied highlights, from garnet red to deep blue; pleasant bouquet, with immediate fragrances of mixed berries, floral notes especially pansy, but also scents of spices, mint and balsamic herbs; dry, full-bodied taste, with velvet succulence that revokes the olfactory perceptions.
Pinot Noir
DOC wine from Oltrepò Pavese, pale straw-coloured with greenish reflections ; fresh, delicate, fruity bouquet with cadences of apple and peach; elegant, harmonious and soft taste, with good structure and a long persistence.