[vc_row][vc_column][vc_column_text]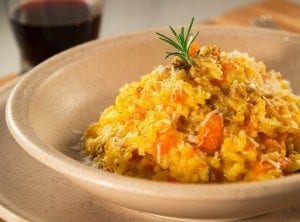 And here you have a classic recipe of Tuscany, the Risotto with Pumpkin and Sausage, very tasty and nutritious dish.[/vc_column_text][vc_custom_heading text="Products used in this recipe" font_container="tag:h3|text_align:left" use_theme_fonts="yes"]
[/vc_column][/vc_row]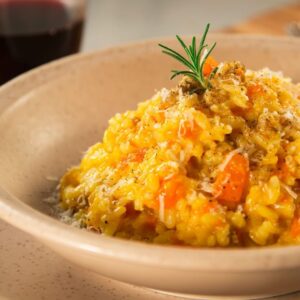 Risotto with Sausage and Pumpkin
Risotto with fried garlic and rosemary, pumpkin and sausage.
Ingredients
200

gr.

pumpkin

at cubes

2

cloves

garlic

1

sprig

rosemary

100

gr.

sausage

2

spoons

olive oil

extra virgin

q.s.

vegetable broth

1/2

glass

white wine

160

gr.

rice

20

gr.

butter

30

gr.

Aged Pecorino Cheese in Hay and Straw
Instructions
Heat 2 spoons of oil in a large skillet and soffriggerci garlic and rosemary.

Remove the garlic and rosemary and add the pumpkin into cubes, sauté for 3 minutes over high heat.

Deglaze with the wine and let evaporate.

Add a ladle of broth and simmer for 5 minutes, then whisk half of the pumpkin with the blender if you have it, otherwise crush with a fork.

As soon as the broth has reduced add the crumbled sausage and cook for 5 minutes.

Add the rice and 2 ladles of broth.

Cook the rice adding occasionally a ladle of broth.

A full cooked, add the butter, the grated Pecorino, a sprinkling of pepper and adjust salt if necessary; let stir for 3 minutes.

Serve hot with a sprinkling of pepper to taste more grated Pecorino.