[vc_row][vc_column][vc_column_text]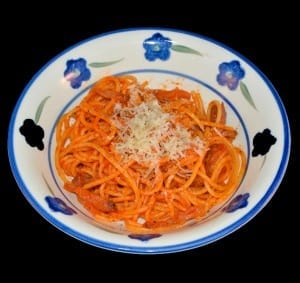 Today we present a classic of Italian cuisine, the spaghetti amatriciana; the original recipe, born in Amatrice, a small town in Lazio on the border with Abruzzo, strictly includes spaghetti and not the bucatini.[/vc_column_text][vc_custom_heading text="Products used in this recipe" font_container="tag:h3|text_align:left" use_theme_fonts="yes"]
[/vc_column][/vc_row]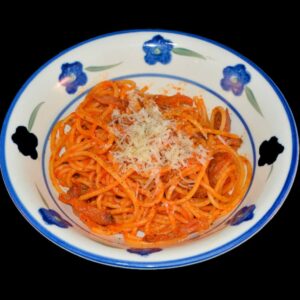 Spaghetti Amatriciana
Spaghetti with cheek pepper, tomato sauce and cheese.
Ingredients
320

gr.

spaghetti

1

n.

chilli

hot

100

g.

pepper cheek

2

spoons

olive oil

extra virgin

350

gr.

tomato sauce

75

gr.

seasoned pecorino cheese

1/2

glass

wine

white

q.s.

black pepper

minced
Instructions
Cut the chilli into strips very thin.

Cut into strips cheek.

Heat oil in a pan and add the cheek, sauté over high heat until it becomes transparent, and add the chilli.

Deglaze with the white wine and let it evaporate.

Remove the cheek and leave it in a bowl in the heat.

Add the tomato sauce to the pan and cook over medium heat for about eight minutes.

Apart boil the pasta in salted water and drain.

Combine spaghetti at the sauce and add the cheek.

Add the grated cheese and pepper and serve hot.