[vc_row][vc_column][vc_column_text]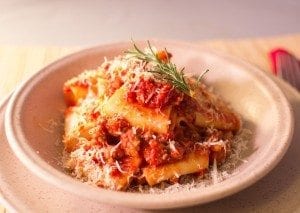 And today we present a classic Tuscan cuisine, Paccari with sausage ragout; this gravy unlike traditional meat sauce does not require hours of cooking but in maximum half an hour is ready.[/vc_column_text][vc_custom_heading text="Products used in this recipe" font_container="tag:h3|text_align:left" use_theme_fonts="yes"]
[/vc_column][/vc_row]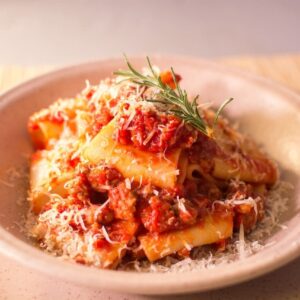 Paccheri with Sausage Ragout
Drawn paccheri bronze topped with sausage ragout.
Ingredients
150

gr.

sausage

1

sprig

rosemary

1

n.

red onion

small

1

spoon

olive oil

extra virgin

q.s.

black pepper

minced

250

ml.

tomato sauce

50

ml.

wine

white

160

gr.

paccari

q.s.

salt

20

gr.

Parmigiano Reggiano Cheese

grated

q.s.

sugar
Instructions
Remove the casing to the sausage and crumble.

Wash and chop the rosemary with a crescent.

Sauté the chopped onion in a pan with oil.

Fry the onion gently, then raise the heat and add the sausage, a teaspoon of chopped rosemary, a sprinkling of pepper and let it color evenly over medium heat.

Deglaze with the wine and let it evaporate. (When the wine are evaporated if you want to lighten the dish you can tilt the pan and remove a bit 'of excess fat is processed)

Add the tomato sauce and a pinch of sugar; dissolve the heat and cook for 15 minutes on low heat, covered, stirring occasionally. At the end of cooking add salt only after tasting because the sausage already contains salt.

Boil the pasta in salted water, drain and stir-fry with the sauce.

Serve hot with the grated Parmesan.