[vc_row][vc_column][vc_column_text]Every year, the winter season and Christmas celebrations are the perfect opportunity to spend pleasant and serene moments. The schedule of the Christmas holiday is always very similar to himself, but precisely therein lies its strength. Year after year we find relatives and friends, someone adds and someone is lost, but the desire to stay together, putting aside for a moment the difficulties and misunderstandings, always peeking. Good food, that stimulates the senses and arouses curiosity, it is in this sense a great little panacea, the essential glue to spend well together dinners
Christmas dinner: economic councils for special occasions
From evenings in the company of friends – who often start around December 20, the Christmas Day family lunch. What is in the menu of the holidays this year? The spirit in which we are going to think about what to offer diners? The lunches, dinners, are moments dedicated to sharing, to joy as well as taste. We proceed creatively to come up with a Christmas menu full of flavors, aromas and fantasy.

The Christmas menu this year with a Tuscan flavor
To surprise your guests with a selection of Christmas recipes inviting and delicious, began to design in advance the Christmas lunch menu or the Christmas Eve dinner. You can do this by choosing high-quality ingredients, guaranteed by the freshness, authenticity and provenance. The intense flavors and tasty Tuscany offer a wide range of possibilities for an original Christmas menu and delicious, with the added bonus of typical Italian products. Salumificio Triglia serves a wide range of high quality craft products, perfect to realize in a few simple steps delicious Christmas recipes, enriched by traditional flavors.
Discover the specialties, the excellence of Tuscan delicacies, and let yourself be captured by the taste and imagination, choosing this year to prepare for Christmas starters of Tuscan salami. You can try to create tasty and tempting dishes, crostini, canapés, carpaccio, salads, pasta, polenta and baked seconds. As? Simple when you have access to products with a unique taste, capable of emitting fragrance and flavor investing our tables gently, let's play it safe.
From ours we all the security and authenticity of a historic brand as Triglia, who knew how to preserve their traditions. Salumificio Triglia offers artisan meats and products designed to enhance the traditional flavors with innovative spirit, to enrich your Christmas lunch with originality.

Appetizer ideas for Christmas dinner with cured meet of Triglia
To offer a tasty appetizer and Out of the ordinary, try SOME of the preparations of the Mullet.
The Cream of Lard with Truffles  for example, soft and elegant aroma, ideal for preparing tasty canapes. Or the Fillet with Pepper, a lean and inviting specialties for Our palates What It often accompanied by slices of wholemeal bread. Prepared with the loin of the pig, The fillet is suitable for being seasoned with a little oil and enriches the offer of appetizers or seconds, if well seasoned with parmesan shavings or pecorino cheese, salad and other vegetable crudités .
How Not to mention the salami. And an appetizer inevitable in the Christmas menu, rich in taste and acceptable to all. Salumificio Triglia it offers in many variants irresistible, with truffles, mushrooms, walnuts, pistachios, olives and pine nuts, the latest innovation in production. The artisan salami And Suitable also for an aperitif among friends, Maybe Accompanied by fresh prosecco.
For the more discerning palate instead there are products coming to the Penitent's Heart and Penitent Prosciutto, which are prepared from the sausage factory with procedures in use by addition because CENTURIES. strictly seasoned for 24 months, THESE sausages get a full taste and unique and can be presented come Christmas appetizer, Cut a Thin slices, maybe Together with Tuscan pane and a Oltrepò Pavese wine.

First dishes Christmas menu: When the pork is the star
The pig is now one of the leanest red meat and nutrients. His versatility in the preparations in the kitchen making it one of the possible protagonists of our festive dinners.
Surprise your guests by presenting as a first course for the Christmas lunch or dinner on Christmas Eve something different. Choose a type of pasta rather large, rigatoni, paccheri, wide noodles, preferably homemade pasta. They go very well potato gnocchi. Prepare them with a sauce of sausage and tomato maybe, bacon and artichokes, or left persuaded by strong and delicate taste of a bacon and pumpkin.
If you prefer a soft and tasty risotto, prepare it with fresh sausage and radicchio or, alternatively, try the polenta, cut into slices and fried in a pan, enriched with Cream of Lard with Truffles.

The evergreen main dishes of pork
More suitable for the New Year that at Christmas, but always welcome, is the cotechino, prepared by hand from Salumificio Triglia, ideal with stewed lentils or mashed potatoes. Nice for the delicacy and softness, it is also the pork loin in the oven, cooked with herbs and accompanied by mashed potatoes or a tasty, enriched perhaps with a few pieces of the legendary Scoppolato of Pedona, a cow's milk cheese flavor exceptional.
Finally, the chestnut flour, add the olive oil, add walnuts, pine nuts and rosemary. Along with the classic panettone, you can present on Christmas table a magnificent Chestnut, completing your lunch with rustic sweetness of Tuscany, one of Italy's most beautiful regions.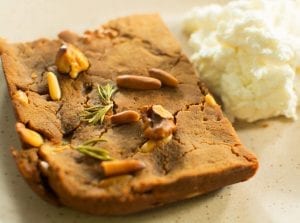 [/vc_column_text][/vc_column][/vc_row]