[vc_row][vc_column][vc_column_text]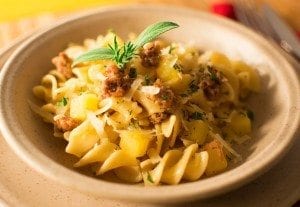 Today we present a first dish rich and tasty , the Big Fusilli with sausage and potatoes garnished with Pecorino Seasoned in Noci; in our country, Gombitelli, it always used pasta and polenta with sausage and vegetables.[/vc_column_text][vc_custom_heading text="Products used in this recipe" font_container="tag:h3|text_align:left" use_theme_fonts="yes"]
[/vc_column][/vc_row]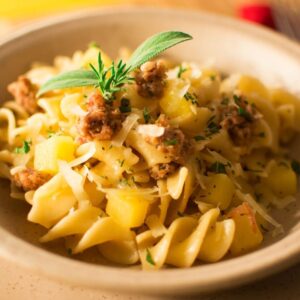 Big Fusilli with Potatoes and Sausage
First dish of big fusilli with sausage and potatoes.
Ingredients
100

gr.

sausage

1

sprig

rosemary

2

leaves

sage

1

n.

red onion

small

1

spoon

oliv oil

extra virgin

2

cloves

garlic

100

ml.

wine

white

150

gr.

potatoes

q.s.

salt

160

gr.

big fusilli

q.s.

pecorino cheese

flakes
Instructions
Remove the casing to the sausage and crumble.

Wash sage and rosemary and chop finely with the crescent.

Chop the onion, crush the garlic and fry in a pan with oil.

Combine the sausage and fry over high heat stirring frequently with a wooden spoon until he has browned. Add the chopped and stir.

Deglaze with the wine and let it evaporate, then turn off the heat and remove the garlic.

Peel the potatoes and cut into cubes of one centimeter from the side.

Boil water in a large pot, add salt and put the potatoes together with the pasta.

Before the end of cooking the pasta take a ladle of water and put it in the sauce pan; drain the pasta and toss in the pan of sauce over high heat for a few minutes, stirring frequently.

Serve immediately sprinkled with a generous grinding of pepper and Pecorino flakes.
Notes
Both the sausage and pecorino contain salt, use a little salt in the water to cooking the pasta.